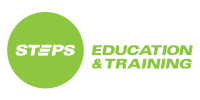 Download your STEPS Education and TrainingProvide First Aid (HLTAID0011 &HLTAID0009)Information Pack Today!
STEPS first aid course covers a broad range of topics to enable students to confidently manage emergency situations and provide a first aid response to a casualty.
First Aid Training can give you the basic skills needed to deal with emergencies, reduce injury, or save a life at home, work or play.
During this course students will learn how to provide cardiopulmonary resuscitation (CPR) and issue basic first aid through practical and theory learning that meets the regulation requirements of the Workplace Health and Safety Legislation.
HLTAID011- PROVIDE FIRST AID
HLTAID009- PROVIDE CARDIOPULMONARY RESUSCITATION
RTO1847