Finding Work That Rewards
They say if you love your job you'll never work a day in your life.
So it's safe to say that STEPS Community Services, disability support worker, Rick Conroy has 'never worked a day' in the last 24 years he's been employed at STEPS.
Disability support workers are the back bone of STEPS Community Services, they provide daily support to their clients in their homes, as well as provide companionship and promote independence and community participation.
Rick is one of 14 children, and is a very caring and relaxed soul, who builds his professional relationships based on respect and a genuine consideration for his client's entire wellbeing and quality of life.
"It's a very rewarding job, I've seen Scott progress a really long way with his independence over the time I have worked with him, the work also gives me job security and a lot of flexibility," Rick said.
"Scott now lives in his own home, he gets to some of his own appointments, and he loves his computers and gadgets.
"I'm not up with technology so he helps me, and we help each other," Rick said.
"He's come along in leaps in bounds over the years, he's so capable in so many ways, and that's what we're here for, to help him live in the community and live his life," Rick said.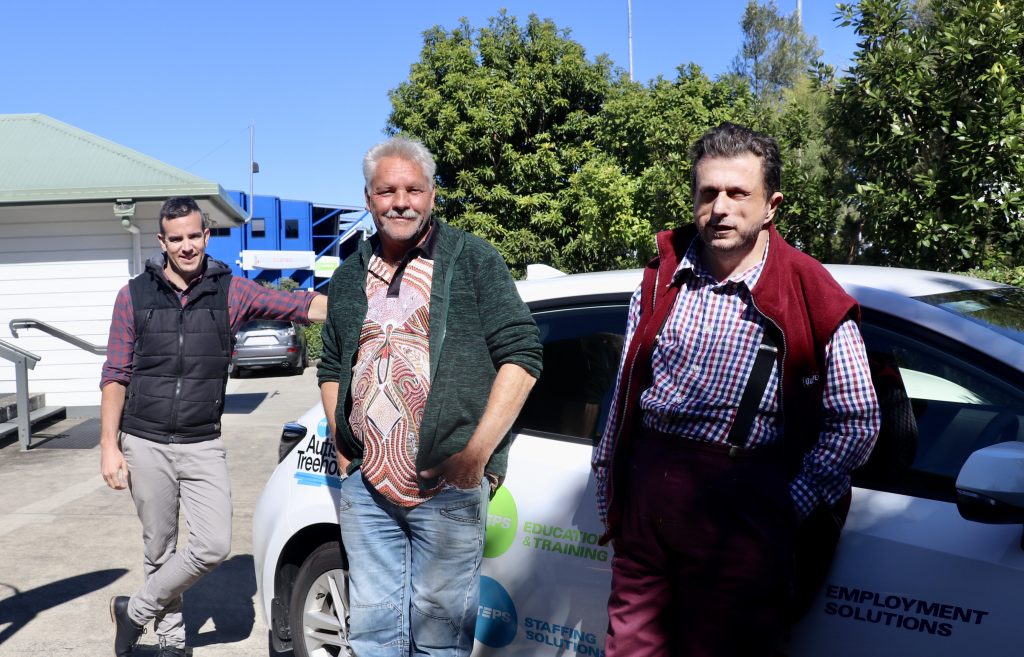 Caption: David and Rick from STEPS Community Services with their client Scott.
STEPS Community Services manager Josh Hansen is recruiting new support workers to join their team and believes the longevity of their staff speaks volumes about working with STEPS.
"STEPS very much lives and breathes by its values," Josh said.
"We invest in our staff, and we listen to the needs of our participants, so we can be the provider of choice.
"We offer flexible working arrangements, salary packaging and a highly skilled and experienced team.
"It's also a very secure industry to work in, the National Disability Insurance Scheme (NDIS) is the fastest growing sector, work force studies show our region is going to require around 5000-6000 full time equivalent staff to meet the demands of the NDIS."
Scott says it's not just day-to-day tasks Rick helps him with it's getting out and having fun too.
"We went to the watch the State of Origin in Brisbane and we go to camps as well," Scott said.
"The three-day STEPS' camps are unreal, it's just great to see everyone get out of routine and have some fun, Scott loves to take all his gadgets to camp too!" Rick said.
 When asked what makes a good support worker Ricks said it's important to listen.
"Have a good ear, be easy going, and don't judge people because everyone has a story."
If you would like a rewarding career as a disability support worker with STEPS, call STEPS Staffing Solutions on 1300 110 444.